Hey Labelers! 💗
Instagram just announced some big news for its platform, and I think every user is sending a huge, virtual THANK YOU! 😌  One-guest IG Lives will soon be a thing of the past as Instagram launches a new feature for its Lives. We are breaking down all the need-to-knows and tips about this new feature!
I know we have all been waiting for Instagram to allow multi-participants for IG Live, and we're finally getting it!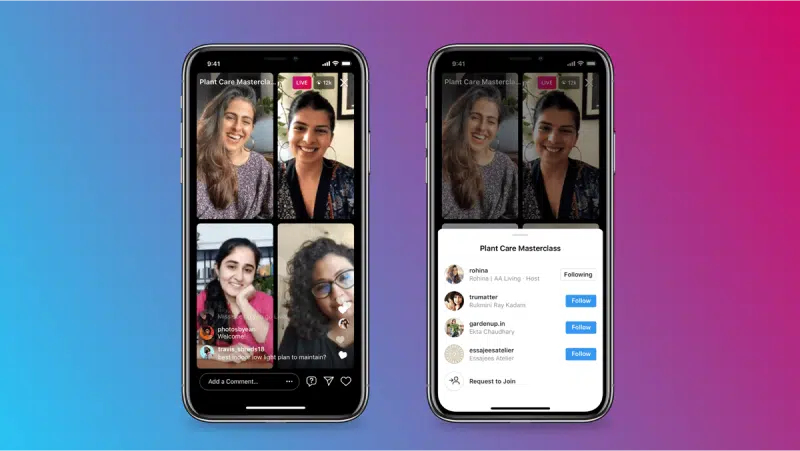 Instagram Chief, Adam Mosseri, revealed the company's plans to launch multi-participant IG Live video chats. 😱  Yes, you read that right! Instead of the current, one-guest IG Live feature, users will be able to go LIVE with up to four people! This launch is said to happen within the next few weeks, so there is some time to plan how your brand is going to create and maximize your content with this feature. Let's talk about all the new possibilities this launch brings: 
Hosting solo Lives can be intimidating. Incorporating multi-person interviews, inviting fans, and sharing the stage with Influencers not only elevates some of the pressure, but it can do big things for your brand!
Hosting interviews. One-on-one interviews are great, but the new capability to expand conversations makes them even better. This feature allows panel interviews and an opportunity for multiple people with unique platforms, voices, and audiences to join your Lives. Bringing new perspectives, new faces, and more engagement, this is something your brand needs to capitalize on and fast! ⚡️
Invite fans onto streams. Customer loyalty and engagement make brands who they are, so take advantage of this new feature! Invite fans on Lives and listen to them. Listen to what they love, dislike, and want to see more of from your brand. Creating this relationship will increase your customer loyalty and give your brand insight into ways to continue being successful. Plus, you will get to see the faces that love and support your brand!
Share the stage with Influencers. Influencers are becoming brand necessities, and that's not going to change anytime soon. Influencers have large audiences and can increase your brand's reach with a post, tag, and Live appearance. Find an Influencer that you love and love your brand and invite them to talk to your audience. This leads to more content, more views, and more customers. If an influencer takeover could change the game for your brand, why not do it? 🤔
This new feature was tested back in December in India, and it grew Live views by 60% throughout 2020. If this isn't the sign you need to start hosting multi-participant Lives, then maybe this will help: Do it! ✨
What are your thoughts on Instagram's new multi-participant feature for Lives? We want to know what you think! Comment your thoughts and how you're going to use this new IG Live feature below!👇
For more guidance on all things branding, PR, and marketing, email us at info@itscreativelabel.com! 
https://itscreativelabel.com/wp-content/uploads/2021/03/THUMBNAIL.png
800
800
des
/wp-content/uploads/2019/02/cl-logo-1.png
des
2021-03-12 13:16:08
2021-03-12 13:16:08
IG Lives Just Got Bigger and Better!